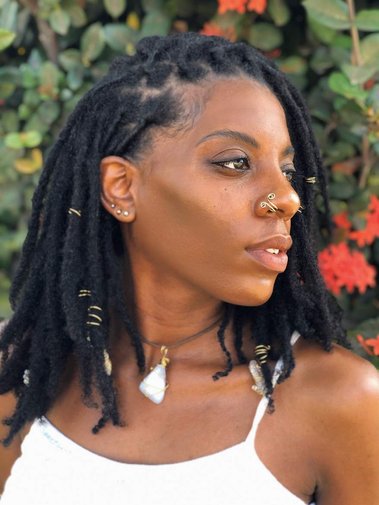 Amberly Alene Ellis-Rodríguez is a documentary filmmaker, photographer, writer, educator and activist born in Baltimore, living in Havana, Cuba. Her work examines her ancestry and family migration within the Caribbean, West Africa and The Americas, issues of Blackness, identity, ancestral healing practices, womxn's rights, health, land rights, environmental policy, and social justice within Latin America and the Caribbean. She is a graduate of University of Maryland's School of Communications and holds an MFA in Film from American University.
She was the recipient of a 2014 Tinker Grant to research cinema and social policy in Cuba at ICAIC, the Cuban Institute of Cinematographic Art and Industry. In 2014 she directed Bullets Without Names, a documentary centered on gun violence, recovery and post traumatic stress disorder among black masculine identifying survivors gunshot trama. The film was nominated for Best Documentary at the American Vision's Awards. In 2016 she was awarded a Ruby Artist Grant from the Baltimore Cultural Alliance. Her 2017 her poem "Black" dedicated to Afro Colombian activist (now Colombian Vice President) Francia Elena Márquez Mina has screened internationally and was featured at the National Gallery of Art in Washington DC.
Her documentary, Hermanas en Ruedas (Sisters on Wheels) premiered in Havana, Cuba on January of 2017. Hermanas in Ruedas follows the stories of young women in the underground skateboard culture in Havana. The film won 'Most Inspirational' at the 2017 Fist Up TV Festival in Oakland, CA. Her photo series 'Havana in Squares' premiered on exhibition at the Motorhouse Gallery in Baltimore in fall of 2018. In summer of 2018, she curated her first installation, "Eyes, Voice, Memory", a youth digital storytelling project that premiered at the Light Box in Miami, FL.
In 2018 she became a co-founder of ReglaSOUL, a community initiative to provide sustainable food resources, plant medicine and healing practice resources to improve the health and well-being of the Afro descendant population in the borough of Regla in Havana, Cuba. In 2019 she worked in collaboration with several award winning Afro Cuban Havana based artists to direct a series of music videos, two of which include "Derrechos de Admisión" and "El Corazón de Ñame" to raise awareness around issues of race, social inequity and gender violence. The films exhibited in 2022 at the Patricia and Phillip Frost Art Museum at Florida International University.
In 2021, her documentary photography work in the community of Regla was selected for exhibition at The Clemente Soto Vélez Cultural & Educational Center in New York. In 2022 was selected by the Caribbean Cultural Center African Diaspora Institute (CCADI) Digital Evolution Artist Retention Fellow. She is currently writing and editing a film about the Freedom Schools the Civil Rights Movements, produced by the Literacy Project Films.